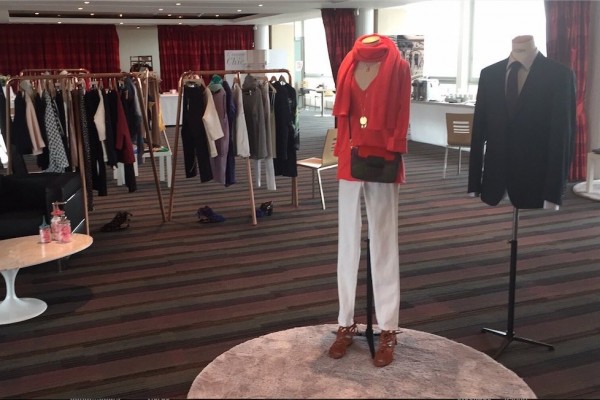 Fashion lab partner
the first edition :
The chic yet in Paris
Instant Chic in Paris, is the appointment of French fashion and creators imagined by Fly On My Nose, which aims to make traveling the French touch in the world and always in prestigious places : the secretly guarded fashion addresses ...
This was the case for this first edition : towards the UNESCO headquarters, in the neighborhood of the Invalides. This is the 7th floor as the Club Shop Instant Chic in Paris has deployed an ephemeral time sale.
Fashion Lab was among the stakeholders to ensure the guests in style council.
Follow me for a private visit !
Between Boutique Club, private apartment and pop up store
UNESCO was not chosen by chance : it is indeed the most international building in the capital. A beautiful symbol for the concept of Instant Chic dedicated to travel across five continents to represent the expertise and creativity made in France !
Bathed in this place of light, with idyllic views of Paris, the selection of French designer fashion brands produced by Fly On My Nose was staged discreet and contemporary way.
It included such collections Ready to S Porter. Martin Lab dip, J. Haston with the shoes and bags G. Dimitrijevic, Draw me a shoe or male moccasins Bo Burnel. What compose, with this first look, our summer cloakrooms !
Between a nice selection of fine jewelry from By 164 and scarves My poetry, a gourmet break was offered to guests ...
A Council informed Style by Fashion Lab
Customer, coming finding an original piece, has had the pleasant surprise to benefit from our personalized style advice. Taking into account the personality of each, his lifestyle, morphology, a colorimetric approach, Fashion Lab is composed of clothing proposals of fittings. The looks were accessorized individually and Fashion Lab shared tips and tricks to diversify outfits and thus make life easier.
Pleasant meetings, friendly, enriching, if you believe the evidence left in the guestbook !
Everything was in fact met to live a fashionable and memorable shopping experience.
Stock image with or without appointment is the ultimate to get to know during his shopping.
After this first success, Fly On My Nose prepares his world tour, with, in his trunks, the best French designers ... An ambassador of style that will appeal certainly an insider clientele and' expatriates. With pleasure, we will meet again to continue this experience !

To each his sartorial signatures
Exactly, would like to know your "Signature Dress" for every occasion ?
Do you know that during your meeting "Personal dress Code" at your home, Fashion Lab with you selecting your outfits to the achievement of a "Book of the key looks" of your wardrobe . You get a new vision of the pieces of your current wardrobe and value your pace !
Would you save time during your shopping ?
"Le Personal shopper " through a personalized program prepared in advance of your arrival you will maximize your time and budget !