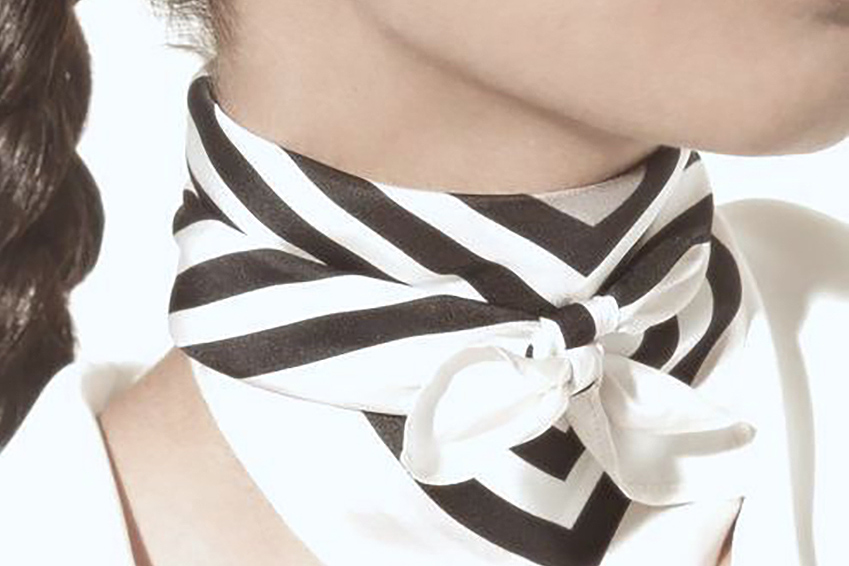 The trend of summer 2018 will be "engaging" !
After a strong dominance of chèches borrowed from ethnic trends and bohemians, square silk scarf back in the spotlight ! And this is not the Hermes brand with its joyful fragrance Twilly and fine silky ties contradict us ...
The trend of summer : and the square colored scarf.
The trend of the summer is the silk scarf, with particular craze its square shape this year 2018.
Textile Accessories, what better way to give a touch of color and whimsy in its professional look. Carried in a thousand ways this season, you can tell they took their legs around their necks ! They are becoming a leading guide member, that can twister un look in the blink of an eye.
Photo Credit - Pinterest
The scarf, it's a story.
From 80 years old, Hermes square has earned a prominent place. The "square" silk twill 90 x 90 cm (hence the name of her perfume) returned in the language habits to become almost a common word. But the scarf is the best friend of women for a long time, worn for protection from the cold and show their social status in Europe, to translate messages in Africa.
The scarf, any outfit !
The trend of summer combines versions : "Sage Square" 45×45 cm, "Square Reasonable" 95×95 cm. He blithely goes to extreme proportions "Square MAXI LIGHT" in 135 x135 cm no longer be an accessory, but a full piece of holding ! Note that the printed scarf dare a marked return Gianni Versace era years 80, Dries Van Noten and Marc Jacobs.
Wear headscarves, an art.
With Kelly in years 50 carried scarves on almost each of her outfits. So it is inspired by this personality and history, and we dare the spring-summer looks, holding the silk scarf in her hair, for the most seasoned, around the neck, for the less bold and jewel Cuff or Ankle jewel go with our nails, for more "stylish, or coiled around the wrists and handles of our bags for a touch of chic !
A scarf nothing for me.
In all cases, seeking to give color scarf with the color of her outfit and colorimetry, to get a look of the most singular.
blond hair and fair skin : prefer bluish tones of azure turquoise, pearl gray anthracite, fuchsia, violin.

Dare soft mauve with delicate colors with graphic patterns or floral watercolor Fifties.

brown hair and light skin : dare blush tones of this fashion season 2018, mercurochrome, orange, coppery, sharp nude tones with green / yellow curry, emerald green and acid green.

Head on over weaves or patterns with colored stripes or romantic tourist scenes.

red hair and fair skin : high beam on orange, coppery, gingerbread, soleil, purple Pantone -coloris 2018 !

Road to ornamental prints with arabesques, cashmeres pallets.

brown hair and dark skin : daring with bright tones or electric, Majorelle blue, neon pink, green firefly, turquoise or contrast with ultramarine, Pine green, grenade.

Take off with the Cuban and lush grounds or animal.
We'll let you take a look at MOODBOARD OUR INSPIRATION ! What attitude do you prefer scarf ?
Photo Credit - Pinterest