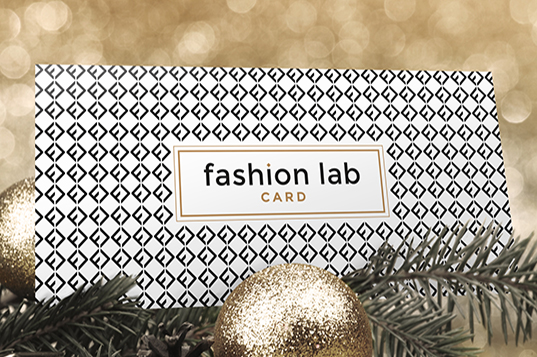 Fashion Lab creates its gift card
Noël et les fêtes sont un moment magique pour Fashion Lab :
this is the time of year when generosity and attention to the other are on everyone's mind.
The team of Fashion Lab, and partners, was organized to design the perfect gift that fail, make eyes sparkle and your loved ones draw the most beautiful smiles on their faces.
This gift, it's here Fashion Lab Card, a passport for a moment just by itself, to take advice Pascale Leuliet, founder of the concept, and expert in personal styling.
Offrir l'opportunité de découvrir "sa Signature Vestimentaire", telling her personality and putting in value : do not pay attention to both original, helpful, and full of kindness ?
For a man, for a woman, the Fashion Lab Card est un cadeau plein d'élégance qui ne ressemble à aucun autre.
Cette carte personnelle donne accès à deux types de prestations au choix :
Le "Personal Shopping"

:

Accompaniment personalized shopping which are selected for him or for her parts, for enhancement of everyday or special occasion.

Qui n'a jamais rêvé d'avoir sa styliste privée ?

Tarif : from 295 € selon le nombre de pièces à sélectionner.

Pour en savoir plus sur le "Personal Shopping" by Fashion Lab < Cliquez ici >
Le "Dressing Detox"

:

On a tous quelque chose à se mettre, mais parfois, il est difficile de le voir au milieu de l'accumulation de pièces parasites.

Une visite à domicile, une analyse & un tri de manière simplifiée, to see more clearly, removing the dressing all toxins, according to a methodology and the person's profile.

Who has not dreamed of having a star dressing room at home ?

Tarif : from 350 € ½ day. The formula can be adapted to the full day.

To learn more about "Detox Dressing" by Fashion Lab < Cliquez ici >

For the choice of delivery, individually or grouped gift, We're listening to your card order :
• welcome@fashionlabparis.com
• mobile : 06 62 11 44 46
Offer valid until 25 December
Pascale Leuliet
Private designer by passion